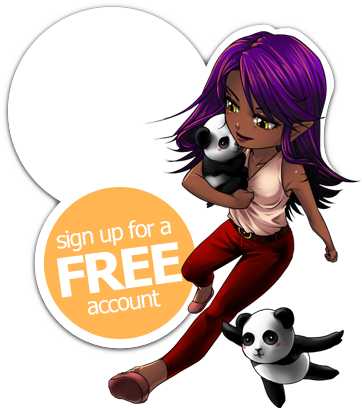 Menewsha is an online avatar community that was founded in January of 2007, and has grown a lot since. It is in its Alpha stages now, but you can still do a lot of fun things there!
The sidebar of the website is easy to navigate, and contains most of the links you will need. Other useful links are easy to find also, they are located underneath the well drawn banner that is on every page. Menewsha has very good artists working for them, the art around the site is very nice and professional looking.
One of the cool things you can do on the site is create your own customized avatar to use that will represent you on the forums. You are able to choose your avatars hair, eyes and mouth.There are plenty of choices and they are all very well drawn and fun to choose from. You have the option to change these as many times as you want, for no gold, so don't worry about it if you like more than one of the styles of features. Once you choose your avatars features, you can look through the shops to see what clothes you will want in the future, seeing as your avatar is only in their underwear now! I find this good though, because unlike websites that give you starter clothes, at Menewsha you have to work to get gold to buy your first clothes! There are different ways to get gold, currently there is the card game and posting on the forums. If you are playing the card game you can bet your gold and pick a card. If you pick the right card you get double your gold, but if you pick the wrong card, you lose your gold. At the forums, it's less risky trying to get gold. All you have to do there is post! You will find that you get caught up in conversations and make new friends, soon you will have a bunch of gold without even realizing it! With almost 2000 users and many forums to post on you are sure to find someone you get along with! You might even find someone you know, because a lot of people (like me) hop from avatar community to avatar community! Don't forget to post on the newbies forum, when you are a newbie. There will be a ton of people waiting to welcome you!
Now, once you have posted on the forums and played cards until you have enough money, you are ready to buy clothes. It's lots of fun looking through the eight stores of Menewsha that carry all sorts of pixel clothes and cool things in search of the perfect outfit. If you don't find what you want the first time you look, don't worry, either the artists will put something new and fancy in the shop that will catch your eye, or when you go on the forums, you will see another persons avatar wearing something that you like, but didn't seem to see when you were looking through the shops. Looking at other peoples avatars is a good way to imagine how something in the shops would look on your avatar, since there dosn't seem to be a preview feature in the shops yet.
Don't forget to make a bank account also, once you get enough money to do so that is. You can earn a 5% monthly interest rate on gold that you have in the bank.
Journals are an interesting feature of Menewsha. You can make a journal, read other peoples journals and even comment on their journal posts.There are lots of people telling interesting stories in their journals, why not join in?
You will notice that there is a trading link on your sidebar as well. From here you can check out your trading activity that you have been doing with all of the items in your inventory.
So, as you can see, there are tons of fun things to do and many friends to make at Menewsha! Hope to see you there soon!