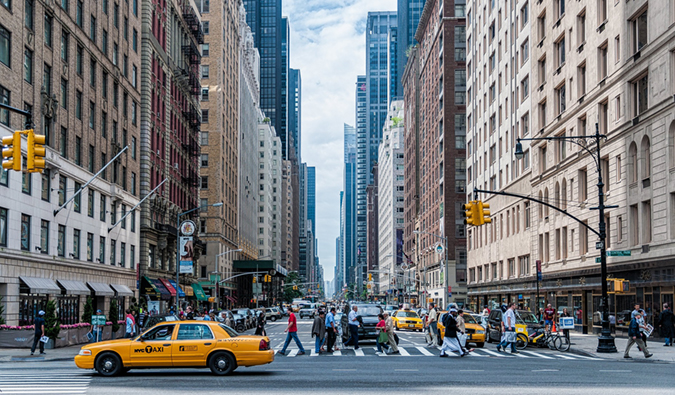 It is not impossible to relax and have fun on a tight budget. Yes, having money can certainly make things easier, but there are little tricks out there if you keep an open mind and learn to think outside of the box.
First and foremost, learn to have a sense of humor about your financial situation. Unless you've murdered someone (which, if you have, shame on you, but see my article "Top Ten Reasons to Have Trunk Space"), remember that with time and patience, most things, including money troubles are reversible. Remember that you are not the only person struggling given the current state of the economy, and that there are always ways to still relax and have fun if you do your research. Even in NYC, one of the most insanely expensive cities on the planet.
If You're a Foodie…
At the risk of stating the obvious, eat in. There are certainly plenty of specials out there, but nine times out of ten you would be amazed at how much you'd save if you simply ate at home more often. If you really love to go out, sign up on your favorite restaurant's website so you can keep yourself up-to-date with any upcoming specials. Designate one night a week or every two weeks, depending on what you can afford, and make going out a special occasion where you get all dressed up and spend time with someone other than your dog. If you're new to the area and don't know of any places, but love eating out, check out "Frizzante," on 117th and Frederick Douglass Blvd. It's an adorable, atmospheric Italian bistro that offers a very reasonably priced menu.
Most entrees are $10 or under. Not one for Italian? Located at #964 Amsterdam Ave., Sushi Suma is probably the cheapest (without sacrificing on quality) Japanese restaurant in the area. They have free delivery if you order out and have some terrific sushi and sashimi deals. (On a side note, a brand new three level supermarket just opened up on 118th and Broadway called Best Ever Market. The selection is incredible. It has everything from fresh lobster to balogna and the prices are the cheapest I've seen anywhere in Harlem.)
If You're a Spa Fanatic…
When I initially moved here, I was amazed at how many places offered mani/pedi specials for as low as $19.99. Is it more fun to visit the fancy ones that smell like candy and fan you down with a giant peacock feather while you get your nails painted next to Jennifer Aniston? Mmmmmaybe. However, there are tons of little gems on Broadway (between 110th and 90th), for example, that are much more cost effective and get the job done. No, they do not feed you grapes while charging your i-pod, but you are much less likely to leave feeling guilty about how much money you spent, and take it from someone who's experienced both ends of the luxury spectrum, your toes will look the same walking out either door.
If You're a Movie Goer…
There is a theater on the corner of 74th and Broadway that has a great morning special. If you don't mind seeing movies that early, all shows are half price before noon. Also, I would highly recommend NetFlix. My fiancée and I have been using this service for the past four months and only pay about $9 a month. They also offer full seasons of television shows, in case you are considering cutting back on your cable bill by foregoing HBO. You can keep the movies for as long as you want and there are never any late fees.
If You Don't Like Anything I've Listed So Far…
There are tons of museums to see in NYC. Most of them offer children's, student, military, and senior citizen discounts. Before visiting a museum, be sure to visit its website to see if they are offering any discounts or coupons. The majority of places do. Remember, EVERYONE is being affected by this economy and as many people have cut back on outings in order to save, places will do what they can to get your business. (Fun fact: Once a month, the Natural Museum of History will turn itself into a night club. See its website for details.) Also, provides some terrific tips on cheap things to do in NYC from people who've lived in the city all their lives.
Hopefully, this has provided some insight and helpful tips on having fun in upper Manhattan. If not, let me know and I will be happy to return to the drawing board and do some more research. I have only been living here for about five or six months, so this is based solely on what I've learned living here thus far. Thanks for tuning in, and remember not to let your light pockets weigh you down.